8 Budget-Friendly Kitchen Updates You Can Work On
Your kitchen is the heart of your home, and the good news is that you don't have to empty your bank account to give it a fresh, stylish makeover. There are budget-friendly updates you can undertake that will make a substantial difference in both the appearance and functionality of your space.
In addition to the routine tasks of decluttering and organizing your cooking area, consider the must-dos listed below as a source of inspiration. Whether you've been contemplating a kitchen revamp for a while or have just recently entertained the idea of an upgrade, these suggestions will guide you in creating a beautiful kitchen without depleting your savings. 
8 easy ways to update the look of your kitchen:
1. Paint your cabinets.
One of the most impactful and cost-effective ways to update your kitchen is by giving your cabinets a fresh coat of paint. Choose a color that complements your kitchen's overall aesthetic. Lighter shades can make a small kitchen feel more spacious, while bold colors can add character and charm. Don't forget to clean and sand your cabinets before painting for a smooth finish.
2. Swap out the hardware.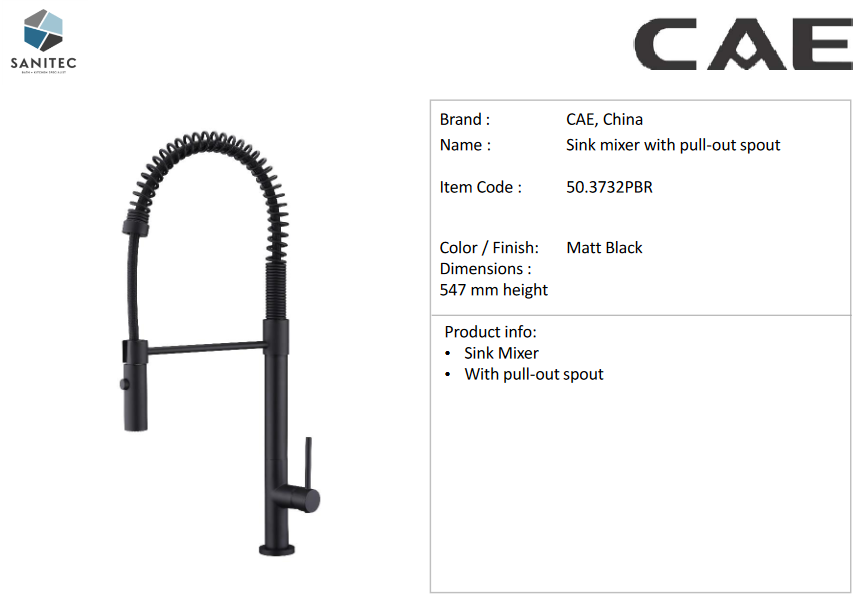 In photo: CAE Sink Mixer with pullout spout
You'd be surprised at how much of a difference new cabinet knobs and drawer pulls can make. It's a simple, DIY-friendly project that instantly modernizes your kitchen's look. Opt for trendy finishes like brushed nickel or matte black to give your cabinets a contemporary touch.
3. Upgrade your lighting.
Good lighting can transform the atmosphere of your kitchen. Consider replacing outdated fixtures with modern pendant lights or track lighting. Under-cabinet lighting can also brighten up your workspace while adding a touch of elegance.
4. Add a backsplash.
A stylish backsplash can elevate the overall appearance of your kitchen. You don't need to use expensive materials like marble or granite. Subway tiles, mosaic tiles, and other captivating materials can liven up even a compact cooking area.
5. Refinish or replace countertops.
In photo: Dong Peng Tiles
A pristine countertop can be the focal point in the kitchen. While granite and quartz can be pricey, you can opt for budget-friendly options like laminate or butcher block. If your existing countertops are in decent condition, consider refinishing them for a fresh look at a fraction of the cost.
6. Work on DIY décor.
Get creative and crafty with DIY art and decor projects. Make your own wall art, paint custom kitchen-themed canvases, or create a chalkboard wall for meal planning and grocery lists. These personal touches can add character to your kitchen without spending much.
7. Strategically update your appliances.
In photo: Cata rangehood and hob
Instead of replacing all your appliances at once, consider upgrading one at a time. Start with the one that needs it the most or the one that will have the biggest impact on your kitchen's functionality. Make sure you set your alarms for sales and discounts to save on costs!
8. Refresh your flooring.
In photo: Dong Peng Tiles
If your kitchen floor has seen better days, consider giving it a facelift. Vinyl flooring and laminate options come in various styles and are budget-friendly. Alternatively, you can sand and refinish hardwood floors for a fresh look.
Updating your kitchen doesn't have to be expensive. By implementing these budget-friendly tips and tricks, you can create a space that's not only stylish but also functional. Whether you're aiming for a complete kitchen makeover or just want to freshen up your space, you may find essentials or fixtures worth investing in at Sanitec.
Sanitec, a trusted bath and kitchen specialist, houses renowned brands that offer premium products that can instantly elevate the look and feel of your kitchen. Want to know what you'll find at Sanitec's showrooms in Quezon City, Taguig, and Ortigas? Check out the products online at sanitecstore.com. Schedule your visit to the showroom near you so you can see the items firsthand and learn the features of each from the knowledgeable staff.
Get in touch with our specialists by contacting the numbers below:
Quezon City: Telephone #: 8230 4065 / 7501 9040 / 0917 817 8149
Ortigas City: Telephone #: 8638 5586 / 7914 7012 / 0917 579 5448
Taguig City: Telephone #: 8815 6057 / 8831 4454 / 0917 579 5492